I'm leaving with a spoiler: I think Dying Light 2, on the whole, is a good game. Which is not so much spoiler considering that, for better or worse, the critics have given positive opinions to the product. Some have been more lukewarm - or severe - but basically they have been promoted more or less by all realities. But the fact that the game is more than enough for me only serves to make sense of the following discourse. In fact, it is clear, at least so it was for me, how much the unexpressed potential of title, and its undeniable shortcomings, give it a nature "Meta-game" which I can't help thinking about.
Teeth in the flesh
It is not clear what actually went wrong in the production process of Dying Light 2, but something has happened. It all started with the departure of Chris avellone, whose writing had - understandably - been loudly announced by the Polish team, assuring players that the title's narrative links would be woven by one of the medium's best writers. It is certain that the hesitation of the narrative department is not enough to invalidate every aspect of the work, although in a production of this kind it is clear that any piece that is suddenly missing you risk causing the whole building to collapse.
It is then impossible not to imagine how much the pandemic has influenced development, but the central problem of the zombie open-world could also be found in a simple production naivety. Techland's inspiration was in fact intended to create a denser, deeper and more multifaceted work, not only by strengthening the good that was created with the first Dying Light but by exploring other avenues and embracing new solutions. The city alignment is a perfect example to describe the above. The same Smektala, lead game designer, in the course of last April specified how much the feature was out of their control, at first it should have been more permeating and impacting on the structure of the map and modulate according to taken by the protagonist. Instead, it has become an addition that is certainly welcome and that lends itself to the needs of the players, but certainly much more washed out than it should have been. Going ahead, taking a step back on this aspect of game design could easily have affected the entire production.
And that's why Dying Light 2 plays the first person zombie. The fluctuating quality of the work involuntarily embodies that of its protagonists. It is a title enthralling and with mordant, but at the same time limps, it moves neurotically, often empty and always failing to hit player.
"Be like water."
The one that works best inside Dying Light 2 is definitely the Level Design. Not only is it supported by a very solid artistic caliber but manages to create an organic and vertical world to be explored without interruption, a huge playground that never appears artificial or conveyed. When it comes to exploration and parkour dynamics, the game is at its best. There are flaws, Dying light 2 in fact discovers the side of some technical problems related to collisions and animations which, although not intrusive, break in some cases an otherwise perfect fluidity of movement. Despite these flaws, however to be kept in mind, the platform soul of Stay Human is its flagship and will delight any lover of exploration. You switch between interiors and exteriors in the blink of an eye, stands out on various levels without ever having to take a breath and every missed grip can lead to a new path, to a different solution to reach the goal.

Unfortunately, the same cannot be said of the combat system. Although animated by good intentions - and intuitions - that see the brawl always juggling with a view to movement merging with the parkour dynamics of the protagonist, the clashes are too much cumbersome, repetitive and not very technical. Facing a single opponent, perhaps endowed with peculiar abilities, the shortcomings are felt less, even if the 1v1s do not shine, they let themselves be played, even if too lazily, but when you find yourself surrounded by enemies, especially if undead, the pace of the game slows down. inexorably until it fades and shows all its weaknesses. It is a defect that must be considered, because it is not always possible to avoid face-to-face by choosing to (un) launch into the verticalism of the game map, many clashes are not avoidable and hurt more than an infected bite.
The playful structure of Dying Light 2 is therefore split in half, a bit like the world he wants to represent. Although it is possible to increase the skills of the protagonist both in movement and in the "hand-to-hand" confrontation, if in the first case you perceive a good evolution of your skills, in the second you always feel anchored to a flawed system at the base, with too much unexpressed potential.
The cold light of day
The technical side of Dying Light 2 is yet another mirror of a work not completely in focus, a victim in part of his nature cross-generational but also marred by two years of development in the worst possible period. The fact remains that in terms of optimizations more should have been done, on PC the title is fluid only on more than performing configurations and even if it comes down to the minimum compromises, at least before the d1, even on a machine that falls well within the minimum requirements, often the game fails to keep up. Some bugs and visual defects then lead the experience to not always be clean and "square" as it should, although it can - almost - always be entrusted to an impactful glance. Having also tested the title on Xbox Series X, post-patch d1, I found that net of some not too consistent smudges, the title is very pleasant in Performance mode but dangerously uncertain if moved to Quality. The world, however, turns out to be extremely generous in details and overflowing with ravines and roads to go through, giving back the idea of ​​a city that is wounded and corrupt but at the same time alive and present. The intricate skeleton of a fallen society without enough strength to get up again.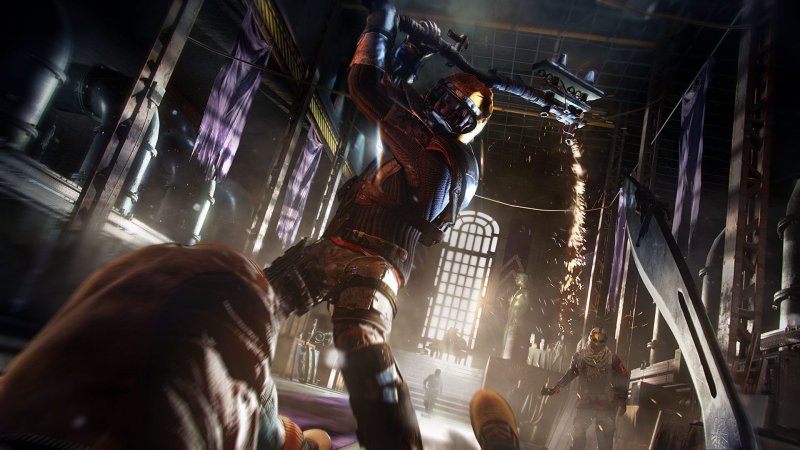 Overall, in short, Dying Light 2 - Stay Human is a victim not only of events but also of himself. Moreover, it comes out in one of the most prosperous months of the last five years as it comes out and can hardly win on its many opponents. Furthermore, in an age where the public is proving increasingly demanding and too often capricious, a valid but decidedly imperfect title like this could succumb to the high expectations of the players. A double pity because, despite everything, that of Dying Light 2 is an experience so unsteady and incomplete but also genuinely fun. The writing is not always in focus and we move from dialogues and characters written well to narrative solutions that bring more than one eyebrow to arch. The combat system is too monochord but when you enter the game world, you see all the goodness of the production. Dying Light 2 should have been more moderate in dreams, keeping the attention on its true strengths and investing their energies in them, choosing instead a more arduous path, getting lost on the road several times. But it is a journey that is still worth taking.