Kadokawa Corp, the conglomerate that owns From Software, recently released their own revenues for the fiscal year 2021. In a presentation to investors regarding future scenarios, Kadokawa hinted that his gaming projects, including Elden Ring, would be overdue.
Elden Ring is the highly anticipated video game created in collaboration between From Software and George RR Martin, author of A song of Ice and Fire from which the TV series Game of Thrones was based. The company report points out though the difficulties encountered in the production of video games due to the pandemic.
An entire page of the presentation is dedicated to the video game. In the slide the company underlines how the title can be the convergence of two world phenomena and commercial successes such as Dark Souls and the works of Martin. Elden Ring is the most ambitious project in From Software's history, and was voted Most Anticipated Game of the Year at the 2020 Game Awards.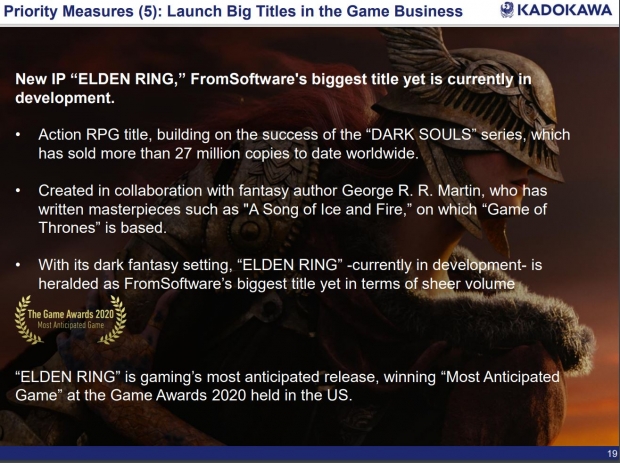 Documents indicate that Elden Ring will not be released until March 2022, unsurprising news given the silence that has surrounded the title in recent months. Probably the silence around the title will be interrupted only in the summer. Many rumors in fact indicate June this year as the right month for the official announcement.