When I discovered the existence of this production by Ndcube (the authors of Wii Party and F-Zero: Maximum Velocity, to understand each other) I foolishly exhibited a vein of superiority, assuming it was a totally accessory and merely filling title within the Nintendo Switch offer. Certainly it is a work that does not have - but does not want to have - the resonance or charm of a Luigi's Mansion or a Xenoblade Chronicles: Definitive Edition. At the same time, however, it would be a shame not to offer an eye to this product, which is immediately revealed to be refined and refined. 51 Worldwide Games is a compendium of board games, this finding is easy to read - even unintentionally - as "just a compendium of board games" but dealing with this outrage could prove to be a somewhat trivial mistake. The exclusive Nintendo Switch must be read correctly based on the type of experience it seeks to offer. After all, as well as ebook have crept into our habits to have a large amount of books at an advantageous price but also in extreme comfort, the role of this title turns out to be extremely similar. Here then is, in this perspective, 51 Worldwide Games shows all its bite, proving to be an extremely greedy product for fans of the great classics - and not - of board games.
From Backgammon to Forza 4
51 Worldwide Games is not the first game that originated as a collection of games but it could prove to be that definitive. In fact, if you think that to inflate the number of arrows to your bow Nd Cube has included dozens of games used as a mere filler in this "boardgame festival", you are wrong. It ranges from Texas Hold'em a Billiards, passing through table hockey and electric toy car races, without excluding the great classics such as Memory or Chess. What is surprising is the care taken in every single sub-game, from the technical and aesthetic realization to the amusing personalized tutorials always with fun introductions. In short, there is really spoiled for choice. Intelligently, the game then manages to offer both hit and run experiences and the possibility of getting involved in decidedly longer lasting challenges, after all a game of Checkers cannot be as fast as a match of Uno (renamed here ...). On the whole, although the 51 titles proposed have not yet been thoroughly examined, we can certainly say that quantity is accompanied by quality.
Two

Four is better than one!

The strength of the production is obviously the multiplayer, moreover, it would be a very wicked choice to pack a rich collection of board games leaving us alone with the CPU. If the game locally proves functional and intuitive from the start thanks to the now-run-in mechanics of the Joy-Con that can be used individually by a couple of players (but if you want you can take advantage of the touch controls as an alternative, albeit less comfortable) the big unknown was on the online counterpart. The doubts were legitimate, moreover Nintendo has shown on several occasions to be unprepared in this situation, with an infrastructure dedicated to online anchored to outdated concepts and, in general, a management not always brilliant of the same. Fortunately these days I have had the opportunity to test 51 Worldwide Games also in this sense and the game has proved, fortunately, unassailable. If in the slower and more reasoned games it was legitimate to expect a certain fluency, some fear of the faster and more "frenetic" ones was there but it was immediately dispelled. Taking for example the aforementioned Table hockey - but the same can be said with the mini-game related to Tennis or others that require a certain speed of reflexes - the games have slipped away without the slightest uncertainty, giving solidity to every match in which we performed. For what concern matchmaking and private lobbies some small uncertainties remain, albeit very unstable. In the first case, it was difficult to find opponents online, which could have simply been due to the fact that currently the title is only in the hands of the specialized press, of course, while the lobbies proved to be very fast but without customization options, such as the maximum number of players or the ability to enter a password. We are however allowed to choose a lobby exclusively dedicated to our friends list so that we can quickly play with three others companions without interference from outsiders. Also on the front of the multi-player experience in short, the title is revealed in this first test absolutely fit.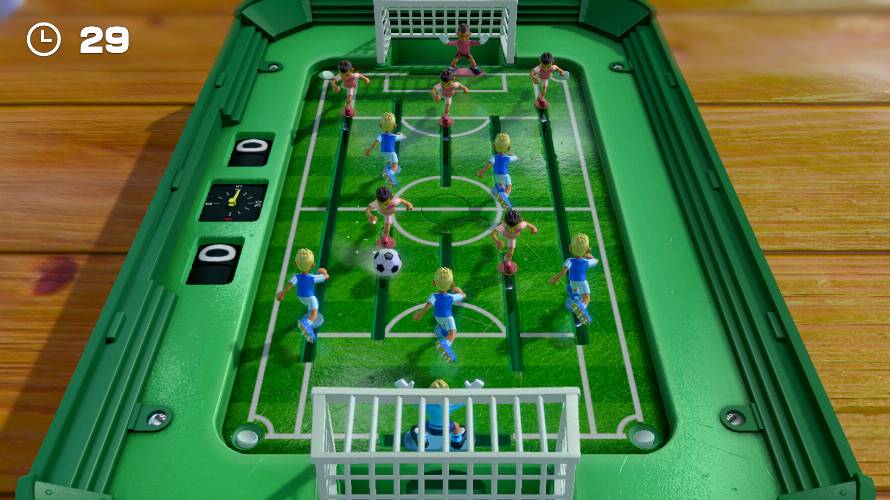 Put the box away
This first date with 51 Worldwide Games was excellent. If the title has a certain intrinsic simplicity - after all it is still a collection - it still strikes thanks to the care taken in almost every detail and the variety of experience. The "fifty games plus one" prove themselves well packaged and wisely chosen, presenting an extremely wide and transversal range of possibilities, proving suitable for players of any age. Some doubts remain, after all it was not possible to thoroughly try the offer in all its facets or go into every single game proposed, yet, although you will have to wait a little longer for the complete analysis and a final judgment, it seems to have a little gem on your hands.