The video-playful media is a maze of corridors and paths in which it is as easy to get lost as to find yourself, thanks to the fact that in this layered labyrinth there are hidden products suitable for any desire, habit, whim or need; in fact no player in this historical period can be said to be totally dissatisfied, on the contrary, however whimsical and complex his tastes are, he will certainly have at least a couple of titles that seem to have been created specifically for his demanding palate. I need this little introductory hat to explain how much Snowrunner is a title absolutely beyond my reach and instead designed for those who want to find - even - the expression in video games rough and rough of reality. It cannot be said, however, that the series of Saber Interactive is a totally niche title, considering the amazing success of MudRunner, the revised and corrected version of that Spintires who already won over a large audience. Focus Home Interactive therefore brings us without surprise this new chapter, expanding the already proven formula that has sanctioned the success of the brand.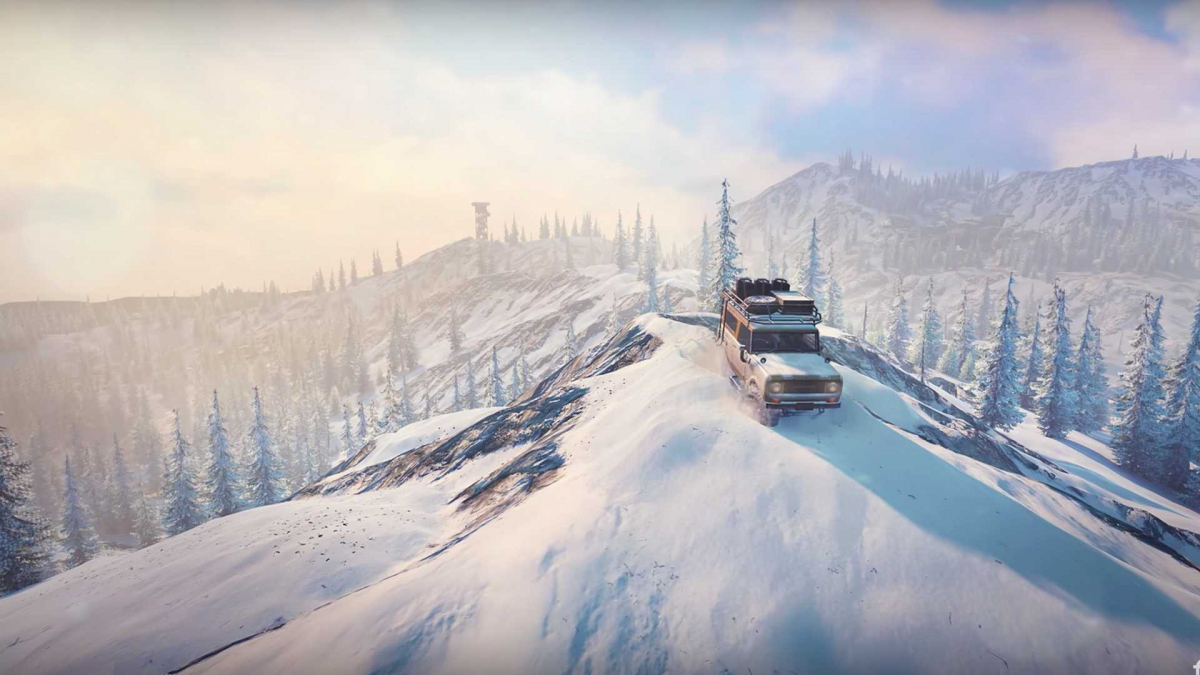 "Work, work and still work"
Let's start immediately from an assumption: SnowRunner it's not a game for everyone. A rather simple finding to assimilate, and if I added a "But it could be."? And in fact it is so, because the game offers a progression system with absolutely addictive potential, backed by interesting maps to explore and a system of simple tasks and missions on the surface, rotating entirely on a system of fetch quest, where we will have to go from point A to point B overcoming the natural obstacles that the environment poses between us and the goal. Completing requests allows the player to advance in rank, expanding dramatically the range of options available inside and outside the vehicle. Building a bridge allows access to new areas but at the same time it is necessary to be properly equipped if you do not want to sink into despair. malmostoso as much as the ground that grips our wheels, imprisoning them in a trap with no way out. Needless to go into the examination of the various types of quests that await us, which despite appearing fairly varied and articulated, with varied prerequisites and different deliveries, cannot express its diversification as much in the thing do but in as. The path that opens up in front of us is extremely difficult and difficult, especially in the main part of our "adventure" and precisely because of such a difficult incipit less prepared players to this type of experience they could abandon the title after a couple of hours. A shame to tell the truth, since if the developers had kept a difficulty curve that was still high but softly damped at first, SnowRunner would probably be a title to recommend to a larger group of people. Anyone who has a certain "fetish" towards trucks and the like will almost certainly fall in love with this product - especially thanks to the presence of brands such as Freightliner, Ford and Chevrolet - as well as those who have appreciated the previous chapters will probably go into raptures with this thanks to a richer car park, a fairly deep customization and the three vast maps to explore. Incredibly, the game manages to communicate even to those who - like those who write to you - do not have a great interest in this type of product, proving to be a work with a very marked character. It is not even to be seen as a defect the "closure" of the title towards a large share of users and indeed underlines again the strong identity of the Saber Interactive production.
After all, we are talking about a simulative that includes hours of preparation and knowledge of the terrain, planning of the paths to follow and which therefore cannot be played in an arcade perspective, if you do not want to run into a torrent of frustration and swearing against the screen . The key to reading SnowRunner is the patience, enjoying every moment of the journey, admiring the views, appreciating the small - but constant - successes that await us in the hard fight against the most hostile and cruel paths, and it is really impressive to note how getting out of an angular situation can be a little less proud than beat Sekiro's final boss. The meticulousness with which it is necessary to reason represents the flagship of the title and the very pivot of fun, as rightly expected from a simulation game. At the same time, the greatest value of SnowRunner represents the greatest brake for those looking for a disengaged pastime.
From Russia with the van
Michigan, Alaska and Taymyr. Here are the three regions that we can explore in SnowRunner, which very intelligently unlock as soon as the tutorial is completed, allowing us to visit the different places without having to spend a certain amount of hours on the previous ones and thus creating a free structure and sandbox, even more than what is already present with the initial area only. By making the triptych of maps available immediately, the player can also decide to immediately face more difficult areas and missions: if on the one hand this ploy is very effective for the expert who is looking for a more difficult experience on the other it is even more spontaneous to ask why never have the developers decided to take advantage of the early stages of Michigan to welcome less accustomed players, leaving others the freedom to immediately face the most dangerous paths with their heads down. Either way, the three regions are well differentiated and they succeed in their intent not only to offer a different type of challenge and approach to the game world, but also - above all perhaps - a completely different feeling to the player thanks to the different panoramas to visit. Moreover, in SnowRunner the journey represents more than half the fun.
The shape of the slime
Can you love mud? Obviously yes, because the care taken by Saber Interactive in restoring the sense of constraint of getting bogged down is truly exceptional. Although snow plays an important role in this chapter, somehow the mud remains undisputed protagonist, continuing to steal the scene as enemy number one, going to build a true love / hate relationship with the player. The care given to the environment is all-round, however, and those who remember their predecessor will know how well the technical sector manages to treat physics with goodness - especially that which concerns fluids and terrain - by creating surprisingly realistic paths and tracks. In general, SnowRunner gives a glance impressive, a world full of details and many memorable glimpses. Many improvements have been made compared to MudRunner in this sense: doubled maps, dynamic shadows not only related to vehicles and a massive use of Physically Based Rendering, supported by important improvements to the lighting system and HDR. Even on consoles, despite some compromises, the title performs well and does not look bad in the face of much more noble productions.
Return to the Garage
Considering the panorama of simulation games in its entirety, SnowRunner could be one for many entrance door, thanks to its offer and better accessibility, although still prohibitive for many. But if you only feel a glimmer of interest in this production, then it will surely conquer you, offering you an experience that is very difficult to find in other titles. Once past the initial stumbling block, the prize will be great, with over forty vehicles to drive, dozens and dozens of missions and unlockables, lots of customization and three splendid maps to be explored. SnowRunner is not a title for everyone, but it is not too far from it and who knows that in the future, thanks to the constant support that Saber Interactive has promised to provide for its latest work, it will not really succeed in conquering the most skeptical. It remains an experience tremendously compassionate but definitely well packaged. If patience is among your virtues, SnowRunner is a title not to be missed.