We are in these days all forced to stay at home. No school, university and for many no work. Given the situation, many companies have launched initiatives to mitigate our difficulties. A good part, those made in collaboration with the government, can be found on the Digital Solidarity.
In addition to these opportunities, other companies have also decided to help those in quarantine or, more generally, those who stay at home. Among them there is also DiscordVoice IP for gamers that I think you all know well, given its success (more than 250 million users in 2019). Recently Discord started the beta of Go Live, a feature that allows you to broadcast what you are playing so that your friends connected to the same voice channel can see it.
Normally the limit of people who can be spectators in these streams is 10, but given the situation in which the Coronaviurs forces many of us, Discord has decided to increase the limit to 50.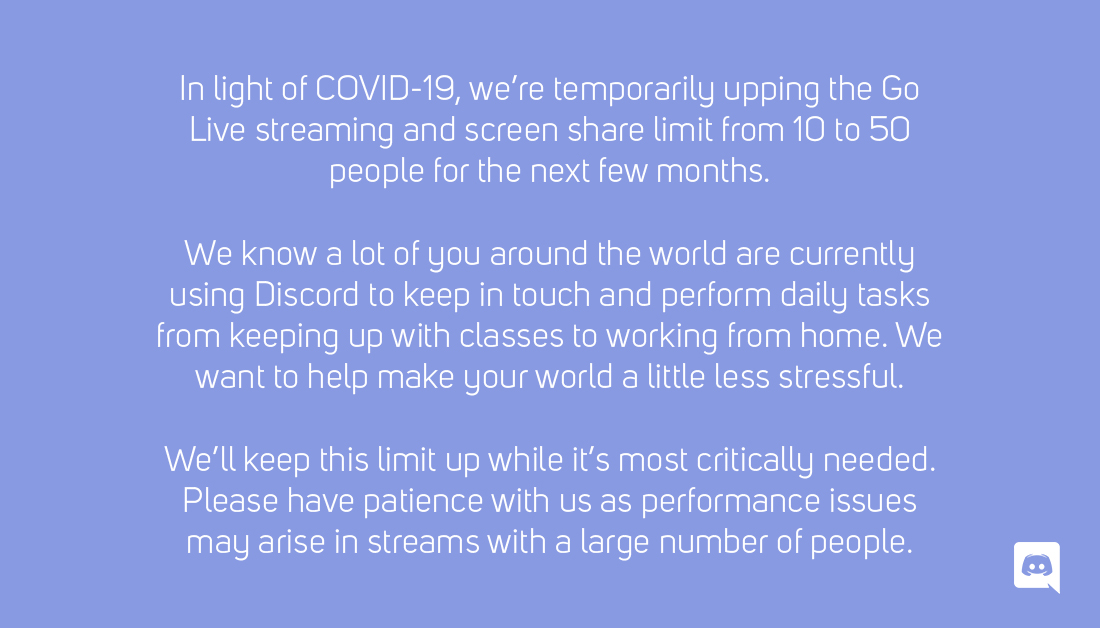 "We know that many of you around the world are using Discord to keep in touch and perform daily actions like working from home or taking lessons. We wanted to help you make your world a little less stressful "
"We will keep this new limit as long as necessary. Have patience in case of performance problems that could occur given the large number of people. "
A beautiful initiative by Discord therefore, particularly appreciated by us Italians, so hard hit by the epidemic.
And did you know that also let's talk about video games has a discord server? If you want to take a ride, just follow this invitation link.