The software house KEMCO announced the release, scheduled for8 May, of Legend of the Tetrarchs for PC and Xbox. The game will be sold on the Microsoft Store at the standard price of 14,99 €, and the pre-order is available already from today.
The title in question is a RPGs in turns of type fantasy which includes the classic features of the genre (from the secondary missions to the treasure hunt) that every respectable RPG player expects from a game like this. Here is the release released by the Kemco boys:
RPG Legend of the Tetrarchs for Xbox One and Windows 10 devices: Pre-order starts today!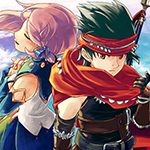 April 24, 2019 - KEMCO proudly announces the release of Legend of the Tetrarchs for the Xbox One family of devices including the Xbox One X, and Windows 10 PCs set to hit the Microsoft Store on May 8th. Standard price is USD 14.99. Pre-order is available starting today!
* If the content is not displayed correctly, please visit the press release here.
A profound such about four heroes of legend!
Overflowing darkness ...
People mutating ...
Beyond the chaos, tear through the darkness!
The game is a fantasy RPG featuring all-around RPG player would expect!
Declarations
answers